Classes
剪画アート&スペースでは、剪画を楽しんでいただく教室を開催しています。
教室について(J)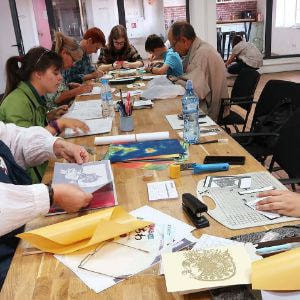 定期教室
毎週木・土曜日 午前10:00~12:00
月1回でも週1回でもお好きな時にご参加頂けます。
(受講前にホームページかお電話で確認してからお越し下さい。)
グループレッスン
3名様から(お友達とお誘い合わせの上ご参加下さい。)
月1回 予約制
ワークショップ
随時開催 予約制1回だけの体験
他、うちわ制作・年賀状、トートバッグなど不定期に受講の方
教室内容
3回目までは基本を練習
(モノトーンの作品・絵の具彩色・色和紙彩色)
季節ごとの作品制作
季節に合わせた図柄を毎月制作。
用意された図案を切り抜き、彩色します。
絵を描いたことのない方のための演習
剪画ならではの下絵の描き方、構成の仕方を学び、オリジナル作品を制作します。
作品を制作するコース
剪画のテクニックを学びながら、作品を完成させます。
テーマに合わせて制作、ギャラリーに出展。
基本料金
1回目2時間1,500円+材料費
(色紙1枚の場合、500円程度。)
ご不明な点はお気軽にお問い合わせください。
お問合せフォーム
About Classroom (E)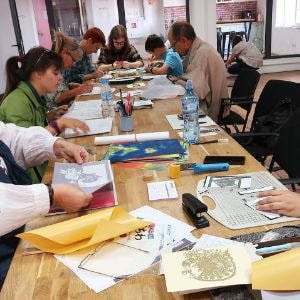 Regular classroom
Every Thursday / Saturday 10: 00am-12: 00pm
You can participate at any time, once a week or once a month .
(Before attending the class, please check on the website or by phone.)
Group lesson
Minimum of 3 student required.
(Please invite your friends and family.)
Once a month reservation is required.
Workshop
A one-time workshop is available. (Please make a reservation.)
For those who attend irregularly such as fan making, New Year's card, tote bag, etc.
Classroom contents
Practice the basics up to the third step
(Monotone works, Paint coloring, Color by Japanese paper)
Seasonal work production
Every month you can make a senga that matches the season.
You can cut out the prepared pattern and color it.
Design practice for beginners
You will learn how to draw and compose the senga design that is unique, and create your own artwork.
Course to create works
Complete the work while learning the techniques of senga.
Make senga according to the theme and exhibit it at the Senga Art Gallery.
Basic fee
1class : 2 hours 1,500 yen + material cost
(1 senga artwork on shikishi board for beginners, material cost is approx. 500 yen.)
If there is anything we can help you with, please do not hesitate to contact us.
Contact Us